Have a pick of the quizzes we've taken and loved! Mostly thank Glorfy for these! ^_^

which LotR horse are you? quiz by Greyelf
I am...
Which Fellowship Actor are YOU?

I'm the 1979 Rankin/Bass animated Frodo!
Adorable, kind, depressed, and intense, I have big, sad eyes and too many theme songs.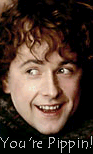 Pippin, or is it Merry??! The two are sort of interchangeable, don't you agree? "You fool of Took!" Gandalf is often heard saying to this young hobbit. Pippin's foolishness does indeed gets the fellowship into lots of hot water. Pippin may not be the brightest bauble in the box, but he at least he means well.
Take the "Which Hobbit are you?" quiz created by Cora Black!
LOTR Lover:
My #1 result for the SelectSmart.com selector, Who should be your Lord of the Rings Lover?, is Glorfindel- The hottie blond Elf lord whom Peter Jackson ignored. But you won't ignore him.

Jam's elf lover:
My #1 result for the SelectSmart.com selector, Who should be your Lord of the Rings Lover?, is Haldir- You like 'em arrogant and sexy. You're going to have fun breaking this one.

LOTR Evil Guy:
My #1 result for the SelectSmart.com selector, Which Fellowship of the Ring Villain Are You?, is Sauron

Orlando Quiz:

Playful Orlando

What Orlando Bloom are You?
brought to you by Quizilla LOTR Husband:

Your ideal husband is Sean Astin! I hereby label
you loyal, sweet and caring, and a lover of cute goofy guys
who love everybody

Which LOTR Actor Is Your Ideal Husband?
brought to you by Quizilla
LOTR Male/Mood:

Prissy Leoglas

What Lord of the Rings Male and Mood Do You Desire?
brought to you by Quizilla LOTR Eyes:

You have Aragorn eyes! You're pretty much fed up
with these other losers and quite bored. After
all, you are king and you already have a hot
chick... what else do you need? Who really
cares about that ring anyway?

Which Lord of the Rings Character's Eyes do you have?
brought to you by Quizilla LOTR Female:

Eowyn of Rohan

What Lord of the Rings Female are you?
brought to you by Quizilla LOTR Male:

Your Ideal Guy Is Legolas Greenleaf! He's the
strong, silent type with long blonde hair that
you're just dying to curl in your fingers, sexy
high cheek bones, pointed ears that just beg to
be nibbled and the well-toned arms of an archer
that are just raring to sweep you off your feet
and carry you to his bed chamber...we're sure
he's quite ready to show you *his* arrows...

what Lord of the rings man gets you hot?
brought to you by Quizilla Elijah:

Normal-Elijah

WHAT KIND OF ELIJAH WOOD ARE YOU???
brought to you by Quizilla Obsessed:

I think it's official, you are obsessed!
Congratulations!

How obsessed with LOTR are you?
brought to you by Quizilla
LOTR Battle:

You are Legolas- the patient loving elf. you are a
very accepting person and won't put up with any
crap from people putting your friends down. You
sure know how to battle, and do it in style- if
such thing is possible. by the way- can i have your number?

LOTR - Which Helm's deep Soldier are you?
brought to you by Quizilla Jam's HelmsDeep char:

You are Haldir- the tragic war hero. You died
protecting your allies, and will be remembered
here-after in their songs. You are(were)
friends with practically everyone, and were such
a likebale character. Too bad it was you and not aragorn.

LOTR - Which Helm's deep Soldier are you?
brought to you by Quizilla